Public Service Loan Forgiveness: DOD and Its Personnel Could Benefit from Additional Program Information
The Public Service Loan Forgiveness program is intended to encourage people to enter public service. It forgives the federal student loan balances of eligible borrowers who have made at least 10 years of payments while in certain public service jobs.
The Department of Education denied 94% of program applicants from the Department of Defense. (We previously found a 99% denial rate for all applicants.) The most common denial reasons were not enough payments and incomplete applications.
We made 5 recommendations for DOD and Education to increase awareness of the program and its requirements by sharing information and collaborating with each other.
Few Department of Defense applicants were approved for the Public Service Loan Forgiveness program.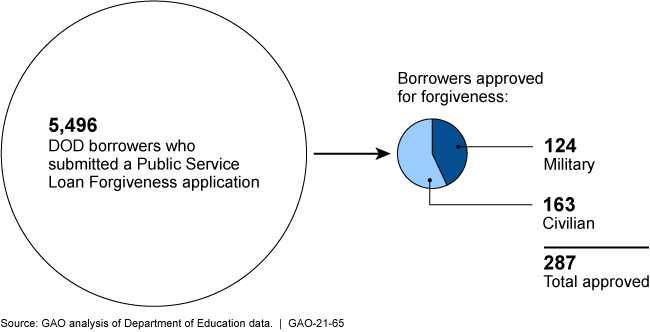 What GAO Found
Personnel in the Department of Defense (DOD)—including service members and civilian employees—may be eligible for federal student loan forgiveness through the Public Service Loan Forgiveness (PSLF) program if they remain in public service employment for 10 years while making 120 qualifying loan payments, among other requirements. As of January 2020, Department of Education (Education) data show that 287 DOD borrowers received loan forgiveness, while 5,180 DOD borrowers (about 94 percent) were denied (see figure). The most common reasons for the denials were not enough qualifying payments and missing information on the form. GAO previously reported in September 2019 an overall denial rate of 99 percent for all PSLF applications submitted by borrowers. More information from DOD could help potential applicants be aware of all eligibility requirements.
Number of Department of Defense (DOD) Personnel Approved or Denied for Public Service Loan Forgiveness (PSLF), as of January 31, 2020
Note: The "Civilian" categories include all civilian employees within DOD, including the military services.
As its administrator, Education has specialized knowledge about the PSLF program but has not shared complete information with DOD. Education officials have not shared with DOD summary information about its personnel who have taken steps to pursue PSLF or service members who may be eligible. Education officials also stated they have not shared the benefits of using the PSLF program together with DOD's student loan repayment program. Education officials have also not updated the student loan guide for service members with specific information on PSLF. Education could take additional steps to improve information sharing about PSLF with DOD personnel. DOD officials expressed interest in obtaining more program information. Collaboration among the departments and updated program information could help DOD officials and its personnel to take full advantage of PSLF.
DOD does not widely use the PSLF program for recruitment and retention to promote readiness despite facing challenges in certain specialty career fields. Some DOD officials we interviewed stated that they preferred to use other DOD benefits and incentives that DOD directly controls, such as bonuses or DOD's student loan repayment program. DOD could enhance its recruitment and retention efforts to promote readiness with department-wide and service-specific guidance about how the PSLF program could be used as a tool for such efforts.
Read the whole report here: