ABOUT VETERANS EDUCATION SUCCESS
We are policy experts, academic researchers, lawyers and advocates. We are veterans and non-veterans dedicated to bridging the military-civilian divide to ensure career and education success for military families. We provide: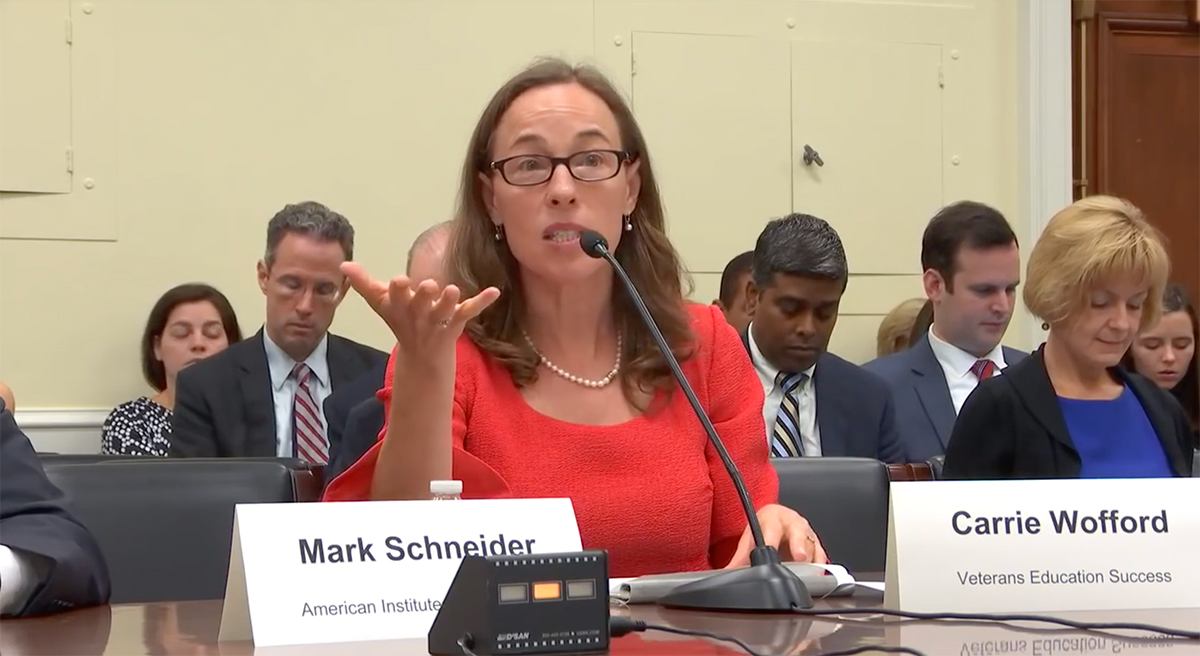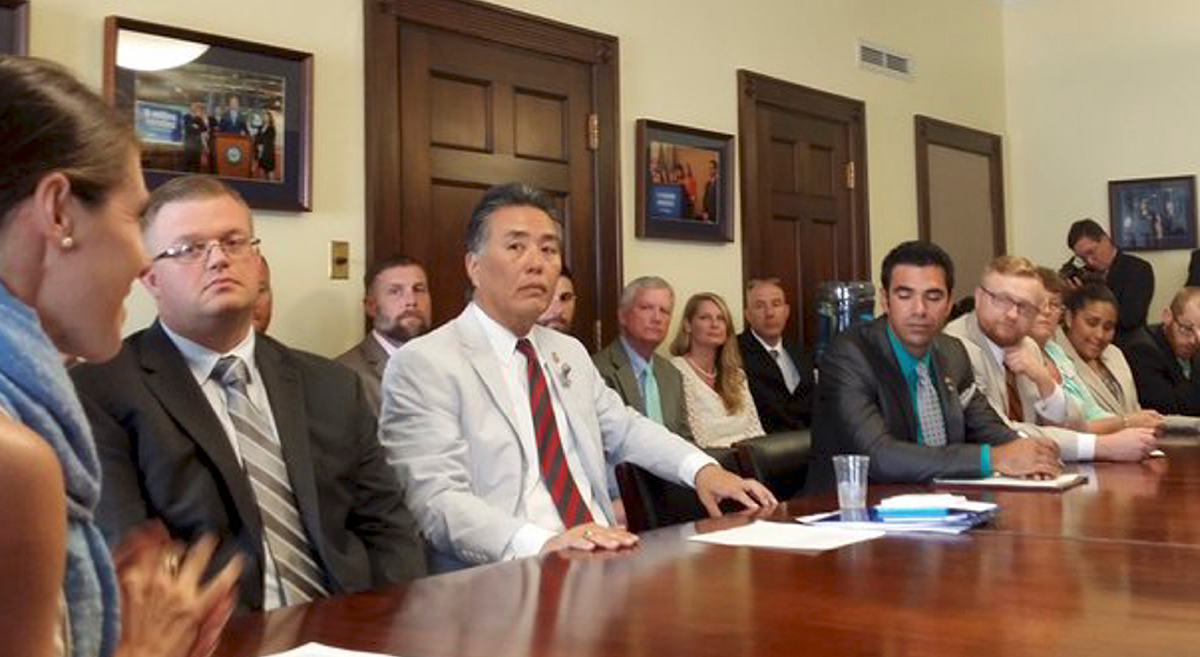 Rep. Mark Takano, Chair of the House Veterans Affairs Committee, meets with VES and Student Veterans from Community Colleges, June 2016
OUR VICTORIES
For nearly a decade, we've been fighting for the rights of student veterans, service members, and their families. We couldn't do it without our Veterans & Military Organization allies and our friends in Congress. Some of our policy successes include:
Disabled Veterans' Legal Rights: In 2019, we forced the US Education Department to follow the law and grant 100% disabled veterans' student loan forgiveness. Our Freedom of Information Act request exposed the truth that the Education Department was denying 100% disabled veterans their legal rights and had wrongly put half of them in default. We mobilized public pressure on the Trump Administration, including generating negative media stories, veterans' letters, a letter from 51 state Attorneys General, Congressional pressure, and the threat of a lawsuit. And we won!

GI Bill Restoration for Vets at Closed Schools: VES worked hard to ensure that veterans at shuttered colleges get their GI Bill back.  We succeeded in getting full GI Bill restoration for ITT Tech and Corinthian veterans – with huge thanks to our friends at VFW who spoke out forcefully at a key moment.  We also got one semester of restoration for veterans affected by future closures.

Ethics Law for VA Employees: When VA proposed to waive federal ethics rules to allow VA employees to receive gifts, dividends, stock, salaries, and more from for-profit colleges, VES organized a massive pushback by bipartisan national ethics leaders, veterans organizations, consumer and education organizations, and the VA employees union. We forced VA to back down.  Congress then worked with us to fix the problem.

Career Ready Student Veterans Act of 2016: When VES published a groundbreaking report, "The GI Bill Pays for Degrees That Do Not Lead to a Job," Congress paid attention – unanimously passing a law to stop colleges that leave veterans ineligible to get a license to work in the promised field.

Quality Improvements for Defense Department Tuition Assistance: We thank Congress for listening to our quality concerns and enacting quality requirements for colleges that participate in the Defense Department Tuition Assistance. We also thank DOD for working with us on careful rules for schools.

2012 Executive Order: Principles of Excellence: VES is proud to have proposed, helped draft, and built support for a 2012 Executive Order establishing principles of excellence for colleges serving veterans and military-connected students.

Stopping Bad Legislation: VES often works behind the scenes to stop bad bills. We mobilized a major effort to kill a 2018 bill by the House Education Committee that would have removed student protections and college quality requirements while pushing federal student aid towards law-breaking colleges, and we led the effort to kill a 2016 bill that would have allowed predatory colleges' unfettered access to military bases.

Helping 5,000 Veterans: VES is proud to have provided free legal services and college counseling to 5,000 veterans and service members – and counting!

Exposing and Stopping College Fraud: VES frequently exposes college fraud through our research papers. We also are proud to play a role behind the scenes helping law enforcement crack down on illegal fraud by bad actor colleges.
Veterans Education Success, a 501(c)(3) nonprofit organization, is able to serve the military and veteran community thanks to charitable contributions from our generous partners. Here are some of our supporters:
Veterans Education Success works with partner veterans and military service organizations to educate federal and state policymakers to ensure the success of military-connected students using the GI Bill and other federal educational benefits, and to weed out college waste, fraud, and abuse.
VES was formed after a two-year U.S. Senate Committee investigation into for-profit colleges revealed a scam: certain predatory for-profit colleges were targeting veterans and service-members with aggressive, deceptive, and sometimes fraudulent recruiting in order to get access to the lucrative GI Bill and Defense Department Tuition Assistance.
Veterans were coming home from Iraq and Afghanistan and getting misled into signing up for these very low-quality schools, where graduates often cannot get the jobs they were promised. Vets were thereby losing their one shot at the GI Bill and the skills they needed to enter the civilian workforce and provide a better future for themselves and their families. The idea that education companies were seeking to trick veterans out of their hard-earned GI Bill is particularly galling because the GI Bill is the main source of America's thanks to veterans and servicemembers who have served and sacrificed the most for America.
In 2011, veterans advocates banded together with Senate staff to propose and demand a Presidential Executive Order and legislation to force schools to disclose the true facts about what they offered and to arm federal agencies with the tools necessary to investigate and prevent deception, fraud, and abuse. That effort led to successful enactment of:
Executive Order 13607, "Establishing Principles of Excellence for Educational Institutions Serving Service Members, Veterans, Spouses, and Other Family Members," issued April 27, 2012; and
Public Law 112-249, "An Act to amend Title 38, United States Code, to direct the Secretary of Veterans Affairs to develop a comprehensive policy to improve outreach and transparency to veterans and members of the Armed Forces through the provision of information on institutions of higher learning, and for other purposes" enacted on January 10, 2013.
In February 2013, shortly after the federal legislation was signed into law, Veterans Education Success was founded – in collaboration with the nation's major veterans' leaders – to ensure effective implementation of the Executive Order and legislation, and to find new ways to stop scams and help veterans find the high-quality colleges they deserve.