For Immediate Release     
Contacts: 
Carrie Wofford, President | [email protected] (202) 838-5050

Veterans Education Success Praises Bi-partisan Bill to Close 90-10 Loophole
Proposed legislation in the U.S. Senate will close the 90-10 loophole and remove the target from the backs of veterans and servicemembers
Washington, D.C. – Veterans Education Success heralds the introduction of a new bi-partisan compromise bill in the U.S. Senate that would close the 90-10 loophole and stop the exploitation of veterans and service members by for-profit schools that use veteran and military student aid to offset the cap they otherwise face on federal funds. 
"We are thrilled to finally have a real chance to close the 90-10 loophole and remove the target from the backs of veterans and servicemembers. Closing the 90-10 loophole has been a priority for the nation's leading military and veteran service organizations for a decade," said Carrie Wofford, President at Veterans Education Success. "This bipartisan compromise bill makes that priority a real possibility.  We're very grateful for the leadership by Senators Carper (D-DE), Cassidy (R-LA), Lankford (R-OK), and Tester (D-MT) in introducing this common-sense bipartisan solution."
The proposed legislation, the ''Protect VETS Act of 2019,'' introduced today, comes after years of for-profit schools' targeting veterans and servicemembers with aggressive and deceptive recruiting to exploit the 90-10 loophole. The 90-10 rule was enacted in section 487(a) of the Higher Education Act of 1965 [20 USC 1094(a)(24)] by Congress in 1992 to "allow the free market mechanism to operate and weed out those institutions [which] could survive only by the heavy influx of Federal payments," as the US Supreme Court wrote when it upheld the rule's precursor.
 The problem for veterans and military-connected students was that the law unintentionally created a loophole that excluded Department of Veterans Affairs (VA) and Department of Defense (DOD) funds in the cap on federal funds that for-profit colleges face. Congressional staff explained this was caused by an oversight. For-profit colleges have manipulated this loophole to count VA and DOD funds as private revenue to offset the 90% cap on federal funds the schools face. This means that for every dollar of VA or DoD funds a for-profit college received, they would be eligible for another $9 of Title IV Funds.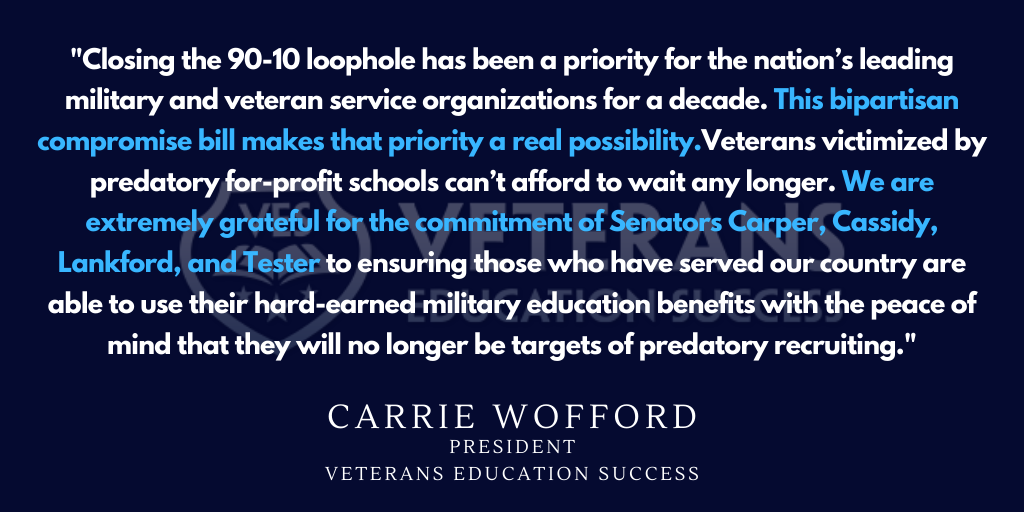 The aggressive and deceptive recruiting tactics of for-profit colleges targeting veterans and servicemembers was well-documented in federal and state law enforcement cases and highlighted by leaders like Holly Petraeus.
Veterans Education Success reported in 2017 that for-profit colleges' exploitation of the 90-10 loophole was worse than previously known because the Education Department had failed to count several smaller GI Bill streams of VA funding in its report that many for-profit colleges abuse the GI Bill and Defense Department Tuition Assistance to skirt the 90-10 regulation.  
For nearly a decade, veterans and military service organizations, who have seen first-hand the devastating impact this loophole has had on military-connected students, have called on Congress to close the 90-10 loophole, and have made it their top priority for the current Higher Education Act reauthorization in a letter to Congress signed by 37 of the nation's largest veterans and military service organizations. 
Today's bill means that for the first time ever, there is a common sense bipartisan bill that closes the loophole and protects not only the hard-earned education benefits of those who have served our country but also taxpayer dollars. 
The new bipartisan legislation will close the 90-10 loophole, with a series of escalating penalties for schools that do not show at least 10% non-federal revenue. The bill also establishes an appeals process for high-performing for-profit schools and requires VA to add a caution flag to the GI Bill Comparison Tool when a school violates 90-10. The bill will apply the revised 90-10 rule for a limited time to for-profit schools after they convert to non-profit status, a tactic which has been used to circumvent federal regulation and oversight. Finally, the bill's effect will be delayed three years to allow schools time to prepare for compliance, but schools will be required to publish their data during the interim three years.
"Veterans victimized by predatory for-profit schools can't afford to wait any longer," said Wofford. "We are extremely grateful for the commitment of Senators Carper, Cassidy, Lankford, and Tester to ensuring those who have served our country are able to use their hard-earned military education benefits with the peace of mind that they will no longer be targets of predatory recruiting."
### 
About Veterans Education Success
Veterans Education Success is a veteran advocacy organization whose mission is to advance higher education success for veterans, service members, and military families, and to protect the integrity and promise of the GI Bill and other federal education programs. The organization offers free legal services, advice, and college and career counseling to servicemembers, veterans, their survivors, and families using federal education benefits – and helps them participate in their democracy by engaging with policymakers. Veterans Education Success also provides policy expertise to federal and state policymakers, and conducts non-partisan research on issues of concern to student veterans, including student outcomes and debt levels. Additional information is available at www.vetsedsuccess.org.