For Immediate Release
Contact:
Carrie Wofford | President, Veterans Education Success
(202) 838 – 5050
July 15, 2020
Veterans Education Success Releases Policy Memo for Candidates Running for Public Office ahead of November's Election
New memo outlines policy positions candidates can advocate to better support veterans and military-connected students in higher education.
Washington, D.C. – Veterans Education Success released a new memo today to help candidates running for public office and government leaders better support and advocate for veterans and military connected students in higher education. The Election 2020: Policy Memo for Candidates: Supporting Military-Connected Students in Higher Education is available at no cost to all individuals running for public office in local, state, and national elections. 
The 2020 election is a unique opportunity for incumbent and new candidates running for public office to support the two million military-connected students in college today by offering substantive reform ideas and policies.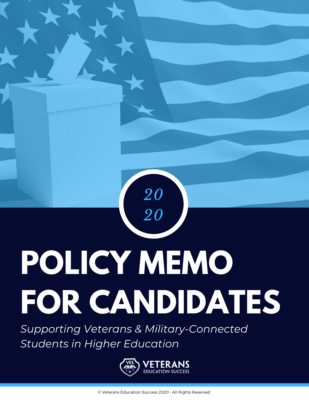 Now more than ever, ensuring the civilian economic success of America's veterans and military families is critical. With the current coronavirus crisis and weakened job market, more veterans will seek to use their GI Bill to improve their civilian workforce credentials. The Election 2020: Policy Memo is intended to showcase policy and legislative ideas that improve the higher education outcomes of veterans.
"We recognize not everyone understands the urgent needs of veterans and military-connected students in higher education," said Carrie Wofford, President at Veterans Education Success. "So it was important to our team that we craft an exhaustive memo that describes the challenges veterans and their loved ones face in higher education so that anyone running for public office can better advocate for their needs while protecting American taxpayers."
The Election 2020: Policy Memo outlines the problems and challenges facing military-connected students then provides a call-to-action for candidates and government leaders to help the community overcome those challenges. The memo provides recommended policy positions and principles candidates can stand for while outlining solutions elected leaders can advocate for. Solutions include protecting veterans from loans they don't want, ensuring quality education is delivered to veterans, and ways to stop deceptive recruiting that harms veterans. 
"Running for public office is a noble and often challenging pursuit where you have to balance your time fundraising with formulating policy positions," said Barrett Y. Bogue, Senior Communication Advisor at Veterans Education Success. "This memo provides a non-partisan roadmap for any candidate to follow if he or she is interested in better supporting veterans and military-connected students in higher education." 
Candidates and government leaders can download a PDF of the memo here or visit the website here. 
###
About Veterans Education Success
Veterans Education Success is a veteran advocacy organization whose mission is to advance higher education success for veterans, service members, and military families, and to protect the integrity and promise of the GI Bill and other federal education programs. The organization offers free legal services, advice, and college and career counseling to service members, veterans, their survivors, and families using federal education benefits – and helps them participate in their democracy by engaging with policymakers. Veterans Education Success also provides policy expertise to federal and state policymakers and conducts non-partisan research on issues of concern to student veterans, including student outcomes and debt levels. Additional information is available at www.vetsedsuccess.org.