Note: This was originally published by The Denver Post on June 25, 2018. 
GOP Higher Education Legislation Will Hurt Service Members, Veterans and their Families
By Jarrod Thoma
After serving approximately four years in the U.S. Army, I was eager to pursue my lifelong passion for electronics by earning a degree in engineering. Following in the footsteps of my father and many of my fellow veterans, I enrolled in DeVry University. However, I quickly learned that this was no longer the same school that my father attended, and that this for-profit college was failing to deliver on many of its promises. In particular, after transferring to DeVry's Westminster campus, it become clear to me that big cost saving cuts were being made. As a result, the quality of course materials and equipment used for instruction were subpar and not as advertised.
Although DeVry was more than happy to cash all of my GI Bill benefits, my complaints about the quality of materials and instructions fell on deaf ears. When I tried to transfer, I was told by both a public university and a community college that they would accept only my general education credits – even though DeVry had stated that their credits would transfer. As I was starting to accumulate debt, including $52,000 in additional student loans, I made the decision to complete my engineering degree at DeVry. However, upon entering the job market, I quickly found that a degree from a for-profit college was not worth the paper it was printed on and it actually hurt my job prospects. Through hard work, and a little luck, I was finally able to secure an engineering position after two and a half years.
Given these challenges, along with the many other hurdles that veterans already face, I'm very concerned that Republican leaders in the House are pushing a bill – the so-called PROSPER Act (HR 4508). The proposed legislation would hurt service members and their family members by cutting federal financial aid, eliminating student loan forgiveness programs, and repealing existing protections for service members and veterans from predatory practices by for-profit colleges.
The bill would decimate federal student aid at a time when student debt is already too high in this country. The Congressional Budget Office reported that the bill would lead to students losing $15 billion in federal student loans over the next 10 years. The US Defense Department and US Navy are opposing the bill, because it would cut Public Service Loan Forgiveness, which gives loan forgiveness if a student dedicates 10 years to public service, including the military, teaching, nursing and working in veterans service organizations. 200,000 active duty servicemembers owe a collective $2.9 billion in student loans, and the Pentagon and Navy have stated that Public Service Loan Forgiveness has been essential to military recruitment and retention.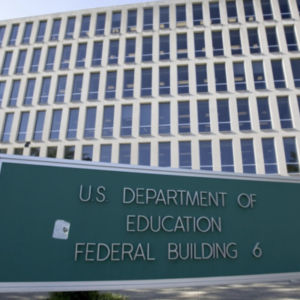 Veterans groups have labeled this legislation as a "good bill for bad schools" because it will open up the door for recruiters from for-profit schools to be compensated based on the number of students they recruit. This will lead to more and more for-profit schools sponsoring events on and near military installations to target service-affiliated students for their military education benefits. There's no good reason for Congress to eliminate the existing student protections, but that's just what the GOP bill does.
The legislation would eliminate the current student protections including the Borrower Defense Rule (this helps students like me whose colleges didn't deliver as promised); the 90/10 Rule (this requires for-profit schools to prove market viability by not being more than 90 percent dependent on the federal spigot); and the Gainful Employment Rule(this cuts off the bottom of the barrel, very worst colleges whose graduates cannot get jobs). All of these rules are meant to keep for-profit colleges in check and protect veterans, and the elimination of the Borrower Defense Rule would be particularly harmful.
After graduating from DeVry in 2015, I filed a borrower-defense claim on my $52,000 in debt and I'm still waiting on a resolution from the Department of Education. While my loans have been placed in forbearance, they still have become a financial burden. By eliminating the Borrower Defense Rule, the PROSPER Act would be devastating for my family as we would have to contend with crushing loan payments, which would make it difficult to pay our existing bills including our mortgage.
The PROSPER Act is dangerously close to having the necessary votes to pass the House, and there is a push to bring the bill to the floor for a vote before the end of June. Instead of passing bad legislation such as the PROSPER Act, Congress should be looking for ways to increase oversight of these for-profit schools while making it easier for veterans – and all students – to earn a degree without taking on enormous student debt.
Jarrod Thoma is a U.S. Army Veteran and a resident of Colorado Springs.