Highlights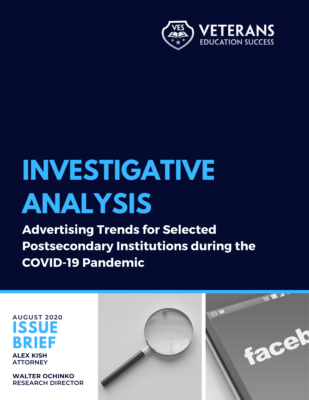 Our investigation examined how a sample of 27 primarily for-profit postsecondary institutions were responding to the COVID-19 pandemic, including the nature of their advertising, and whether their ads were targeting veterans and military-connected students. We analyzed the schools' active social media ads appearing between February and April 2020 on the Facebook Ad Library, which encompasses Facebook, Instagram, Facebook Messenger, and Facebook's Audience Network.[i]
We identified six common advertising approaches used by the 27 schools:
Ads referenced, or appeared to reference, the COVID-19 pandemic, either through indirect reference (e.g., ads discussed homeschooling during "uncertain times" or praising "healthcare heroes") or mentioned COVID-19 directly;
Ads featured healthcare-specific roles and appeared to target prospective students interested in working in healthcare;
Ads touted an institution's online programs and referencing the benefits of online learning;
Ads promised low cost or scholarships;
Ads referenced the ease of transferring credits from another institution; and
Ads appeared to target servicemembers and veterans, a frequent target of for-profit schools because of the 90/10 loophole, which allows for-profit schools to circumvent the cap on Title IV funds the schools would otherwise face by counting GI Bill and military tuition assistance as non-federal revenue. It is worth noting that the majority of the ads also appeared to target underserved minorities.
[i]Facebook's Ad Library does not display every ad that was ever published by a business. Advertisements about social issues, elections, or politics are retained even if they are inactive; ads that do not deal with these topics are listed in the ad library only if they are active. As a result, we did not observe all ads published by our sample of schools, only those which were active on the days we accessed the ad library.