Veterans Education Success works with Congress to ensure GI Bill students' voices are heard and that higher education meets their needs.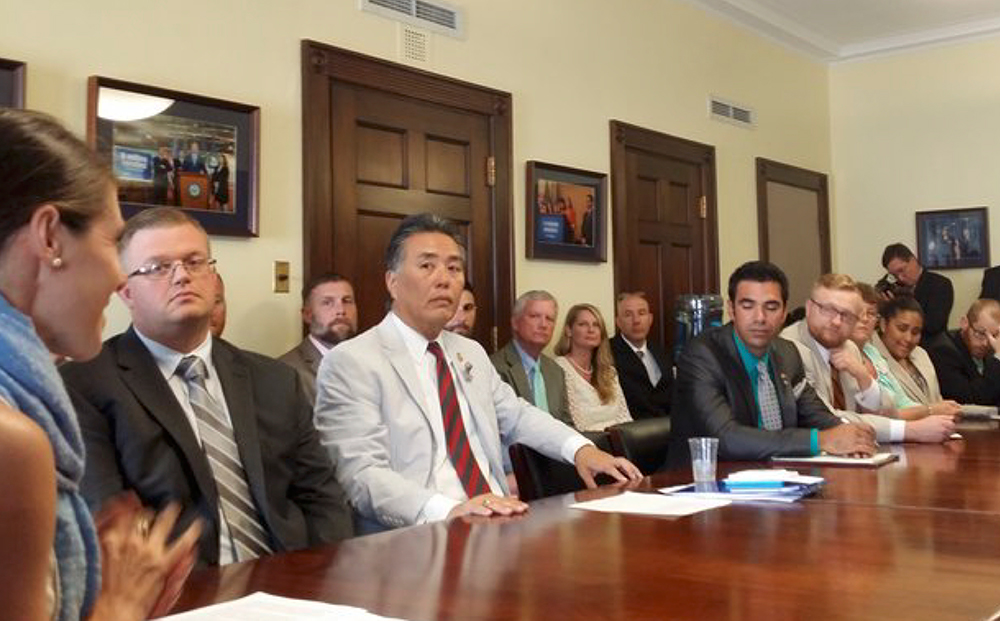 Congressman Mark Takano, now Chairman of the House Veterans Affairs Committee, meets with Veterans Education Success and student veterans from community colleges nationwide, June 2016
STATEMENTS ABOUT LEGISLATION
Here are our statements on legislation.
LEGISLATION WE ARE TRACKING
These are some of the bills in Congress we are tracking.
OUR LEGISLATIVE SUCCESSES

Protect the GI Bill Act

Passed unanimously both the House and Senate in December 2020, as Sections 1001-1025 of  the Johnny Isakson and David P. Roe, M.D. Veterans Health Care and Benefits Improvement Act of 2020

Requires common-sense oversight of schools through risk-based reviews triggered by Education Department or accreditor monitoring, federal or state punitive action, or conversion from for-profit status.
Strengthens the ban on deceptive college recruiting.
Restores GI Bill and Voc Rehab for students whose schools close or are disapproved.
Requires schools (not students) to repay VA any tuition overpayments and helps prevent overpayments by requiring schools to re-certify after the add/drop period and by requiring students to verify enrollment monthly.
Protects students from failing schools. If a school is terminated by the Education Department or at risk of losing accreditation, VA must act. Also requires law schools to be properly accredited.
Requires schools to honor deployments and provide students a point of contact and clear information about the program, including cost, graduation and job placement rates. Also stops same-day recruiting and more than 3 unsolicited recruiting attempts.
Sunsets the Montgomery GI Bill and delays by 6 months the date at which servicemembers have to choose whether to pay into it.
Extends in-state tuition at public colleges to veterans, regardless of their residency and date of separation from the military

Borrower Defense Congressional Review Act Resolution

We secured bipartisan victories in both the House and Senate to stop Betsy DeVos' rule that makes it almost impossible for students to get loan forgiveness if their college defrauded them. Despite our bipartisan victories, President Trump vetoed the Act.
We brought student veterans to speak out in press conferences with both the House and Senate.

Veterans Benefits and Transition Act of 2018

Passed unanimously both the House and Senate at the end of December 2018, signed into law January 2019 as Public Law No. 115-407.

Sec. 103 forbids schools from forcing GI Bill students to pay penalties or late fees or denies them access to classes, libraries, and facilities if VA payment is late ("Forever GI Bill Housing Payment Fulfillment Act" a.k.a. "SIT-REP");
Sec. 102 provides GI Bill students with proof of their housing allowance to meet landlord requirements;
Sec. 105 aligns monthly housing allowance for high tech pilot with rest of GI Bill programs;
Sec. 504 requires VA to study and begin addressing VA's debt collection practices of clawing back GI Bill from students.

Ethics Law to Prohibit For-Profit Colleges From Giving VA Employees Gifts, Stock, Dividends, Salaries, etc.(2018)

Cleared Congress in September 2018, as section 302 of S.3469

Our Work Stopping the House PROSPER Act (2018). When the Chairwoman of the House Education Committee (who takes more money from for-profit colleges than almost any other Member of Congress) tried to push through a bill to hurt students and steer federal funds to for-profit colleges, we led the effort to stop her bill — and we won.

VFW letter to Chair & Ranking of Senate & House Education Committees (available upon request to VFW)

"Forever GI Bill" Harry W. Colmery Veterans Educational Assistance Act of 2017
Our work stopping a bill that would have allowed predatory colleges' unfettered access to military bases (Manchin Amendment, July 2016):
Career Ready Student Veterans Act of 2016
Defense Department Tuition Assistance Restrictions (2014)

Signed into law Dec. 2013 – 10 U.S.C. 2006a, 2014 National Defense Authorization Act s. 541
This stops the Defense Department from wasting tuition assistance at education programs that leave graduates ineligible for the job.

Improving Transparency of Education Opportunities for Veterans Act of 2012

Signed into law Jan. 2013
Requires VA to create an online college search tool (the GI Bill Comparison Tool) and a system for handling student complaints, and bans incentive compensation for college recruiters.
MORE OF OUR WORK WITH CONGRESS