Veterans Education Success works with Congress to ensure GI Bill students' voices are heard and that higher education meets their needs.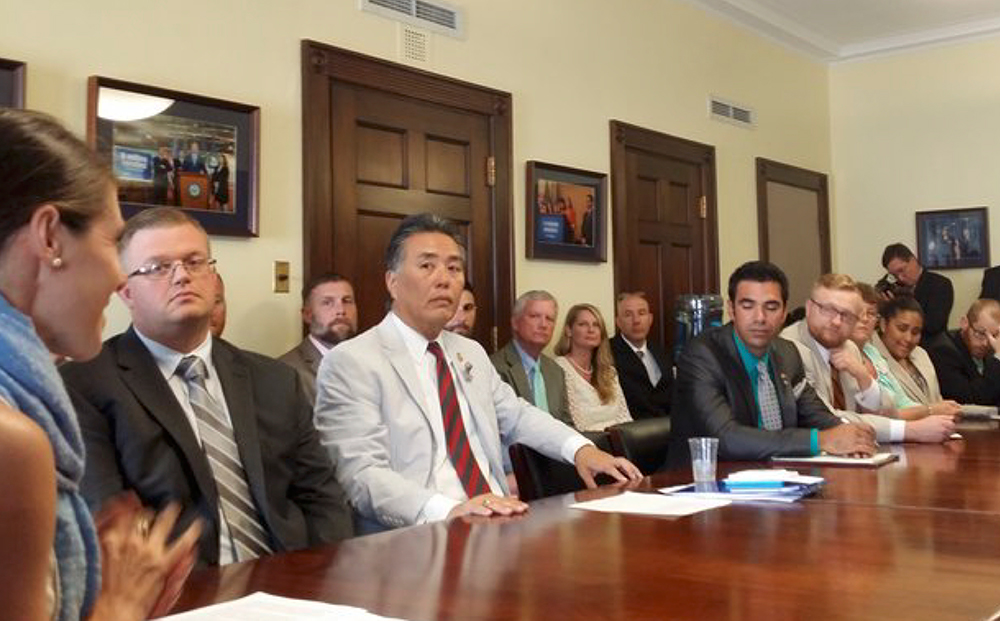 Congressman Mark Takano, now Chairman of the House Veterans Affairs Committee, meets with Veterans Education Success and student veterans from community colleges nationwide, June 2016
LEGISLATION WE ARE TRACKING
These are some of the bills in Congress we are tracking.
STATEMENTS ABOUT LEGISLATION
Here are our statements and our allies' statements on legislation.
Our Legislative Successes
Veterans Benefits and Transition Act of 2018

Passed unanimously both the House and Senate at the end of December 2018, signed into law January 2019 as Public Law No. 115-407.

Sec. 103 forbids schools from forcing GI Bill students to pay penalties or late fees or denies them access to classes, libraries, and facilities if VA payment is late ("Forever GI Bill Housing Payment Fulfillment Act" a.k.a. "SIT-REP");
Sec. 102 provides GI Bill students with proof of their housing allowance to meet landlord requirements;
Sec. 105 aligns monthly housing allowance for high tech pilot with rest of GI Bill programs;
Sec. 504 requires VA to study and begin addressing VA's debt collection practices of clawing back GI Bill from students.

Ethics Law to Prohibit For-Profit Colleges From Giving VA Employees Gifts, Stock, Dividends, Salaries, etc.(2018)

Cleared Congress in September 2018, as section 302 of S.3469

Our Work Stopping the House PROSPER Act (2018):

VFW letter to Chair & Ranking of Senate & House Education Committees (available upon request to VFW)

"Forever GI Bill" Harry W. Colmery Veterans Educational Assistance Act of 2017
Consumer Financial Protection Bureau's Arbitration Protection Rule
Our work stopping a bill that would have allowed predatory colleges' unfettered access to military bases (Manchin Amendment, July 2016):
Career Ready Student Veterans Act of 2016
Defense Department Tuition Assistance Restrictions (2014)

Signed into law Dec. 2013 – 10 U.S.C. 2006a, 2014 National Defense Authorization Act s. 541

Improving Transparency of Education Opportunities for Veterans Act of 2012

Signed into law Jan. 2013
MORE OF OUR WORK WITH CONGRESS