We've provided free help to more than 5,000 veterans and servicemembers – and many corporate whistleblowers. Sometimes we win through negotiations, such as when we helped veterans at Stanford University get their full housing allowance, and sometimes we win through legal action. We also help law enforcement with information and victim and whistleblower connections. Most of our work is private and confidential, but here you can see our public filings.
OUR LEGAL REPORTS AND MEMOS
OUR LEGAL ADVOCACY LETTERS

Some of our legal advocacy letters can be shared publicly.
Carrie Wofford
A letter to Secretary McDonald requesting additional oversight of the GI Bill to protect veterans from predatory colleges. Signed by 23 veteran and military organizations.
OUR COURT FILINGS

Our court filings to protect veterans, servicemembers, and military families.
OUR SUBMISSIONS TO ACCREDITORS
Our legal team provides submissions to college accreditors, documenting our findings about specific colleges, including our research findings, student veteran complaints, and whistleblower concerns.
OUR LEGAL BRIEFS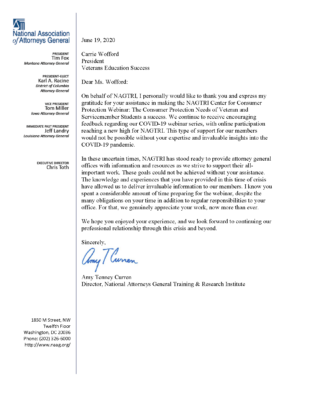 We serve as a solo amicus in a case regarding the rights of whistleblowers under the federal False Claims Act: 
---
We won two amicus cases to protect students' rights to sue loan servicing companies that fail to comply with Public Service Loan Forgiveness – which is important to veterans and servicemembers and to recruiting and retention by the U.S. military, Veterans Affairs Department, and veterans organizations.

---
We helped ITT Tech and Corinthian students, working closely with several hundred individuals to file claims with the Court. 
We also supported lawyers at Harvard Law School's Project on Predatory Student Lending, who represent a class of all 750,000 former ITT Tech students (including veterans) who attended in the last 10 years:
---
We've joined several amici curiae briefs regarding the Gainful Employment rule at the US Department of Education that weeds out poor performing career college programs:
OUR FOIA REQUESTS
We file Freedom of Information Act (FOIA) requests to government agencies to help expose important facts to protect veterans, servicemembers, and military families.
Carrie Wofford
The Education Department responded to our FOIA request regarding totally disabled veterans' legal right to loan forgiveness.  The FOIA response shows that more than half of the 42,000 totally and permanently disabled veterans who are [...]
James Haynes
We sent a Freedom of Information Act request to the US Education Department. This is the Department's answer. It shows that half of disabled veterans who are eligible for loan forgiveness are already in default. [...]
LAW ENFORCEMENT NEWS
Veterans Education Success works with federal and state law enforcement to protect the rights of veterans, service-members, military family members and survivors.